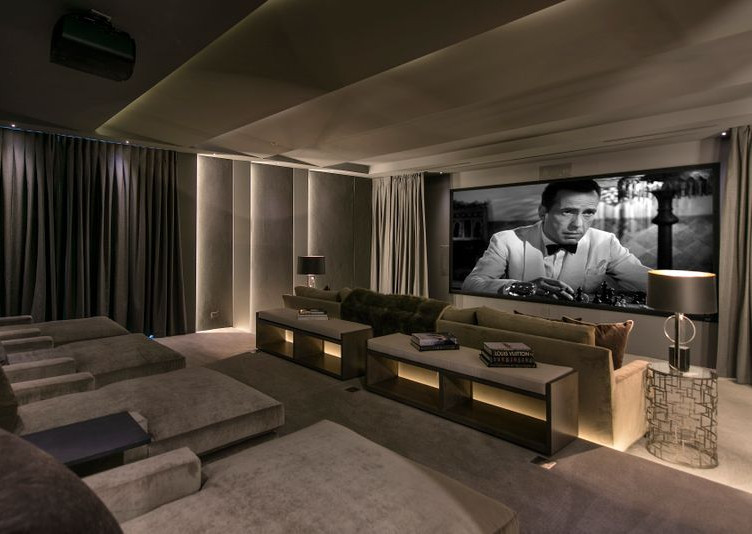 Home
Theaters
Easily one of the most exciting things, in demand today, is a home theater. Today, more and more families are opting to share an experience they can all be excited about. It may be an Academy award movie or a sporting event; today's home theater is a totally cool and comfortable place. Themed lighting, theater seating, surround sound systems and digital projectors make the emotional and financial return on this investment sky high!
Dedicated theaters are defined as Audio Video systems which include casual or formal theater seating, a high-resolution projector and screen, and from 5 to 11 channels of audio. MAXSYSTEMS theaters and screening rooms can rival many local movie houses. Many of our designs are used int he entertainment industry as reference theaters in which business decisions are made. Theaters operate best in low light, so shade and light control is also an important feature.
Whether it's Cable or Satellite or BluRay disks, media servers or the multitude of Internet media available, there are no limits on this unique entertainment environment.
Theaters can also be adapted into multi-purpose rooms. Typically, these types of systems can be adapted for video gaming and multi-image displays.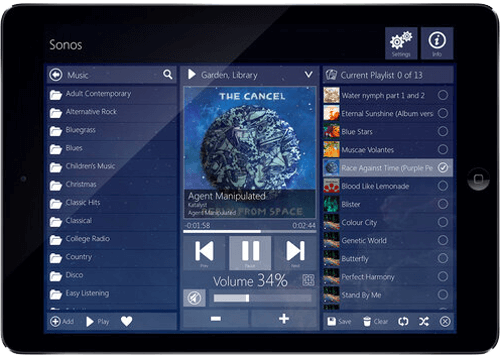 Multi-Room Music Systems
Multi-zone music systems can allow you to select from among several signal sources (CD, media server, satellite radio, iPod). We can design the systems so that single or multiple sources can play in any combination of rooms at the same time. For example, a 5-disc CD changer can be playing in the Kitchen while the music-only satellite receiver is playing in the Dining Room and the Apple TV plays in the Exercise and Paddle Court areas. Typical areas can be:
Exercise Rooms
Dining Room
Playroom
Outdoor Areas (pool, spa, patio)
Covered Porch
Powder Rooms
Kitchen
Living Room
Master Bedroom
Master Bath
Study/Library
We include sub-enclosures for in-ceiling or in-wall speakers to mitigate unwanted sound transference to nearby areas and to enhance sound quality. In Exercise areas, we recommend either slightly larger speakers or the addition of a subwoofer, adding fuller bass response which encourages a more vigorous workout. Each room with speakers can be provided with a multi-button keypad for the following controls: On/Off, Volume Up/Down, Radio Channel Up/Down, CD track Fwd/Back.
Please note: The Audio Video Entertainment systems can be wired so that the rear channel speakers can play music from the Multi Room system if desired when the local AV system is not in use.
Outdoor
Systems
The centerpiece of the system is a high performance flatpanel TV of appropriate size which can be mounted on a variety of brackets and articulating arms. The system also includes a 5.1 or 7.1 channel surround-sound speaker system comprised of front left, center, and right channel speakers (size and type TBD), left and right rear channel and effects speakers and single or multiple powered subwoofers for rich, full bass tone.
We recommend subwoofers that can take up minimal cubic feet and are less intrusive, whether they are placed openly in the room or discreetly mounted in walls or cabinetry.
The system is powered by a reliable multi-channel AV receiver. The signal sources can include a Blu-ray HD DVD player and HD satellite or cable receiver. The system will be controlled by a wired/wireless remote control which can be also programmed for control of other subsystems in the room (lighting control, motorized shades).
When docked in its wired station, it can also access the home's cameras. The rear channel speakers will also be wired to play music from the Whole House Multi-Room Music system when the local AV system is not in use. The components are typically mounted in a professional rack on shelving which can be mounted in millwork.